HOURS
Sun. - Thurs.: 11 a.m. - 9:30 p.m.
Fri. & Sat.: 11 a.m. - 11 p.m.
Delivery available during restaurant hours.

SAMMY'S PIZZA - EST. 1954
As World War II soldiers returned home from Italy telling tales of their favorite food, the popularity of pizza in the U.S. grew. Sam Perrella, a former miner who owned a small café in Keewatin, picked up on this growing trend. Having connections in Chicago, Sam visited with some pizza makers and returned home with an idea that sparked and gave birth to what is now Sammy's Pizza.
In October 1954, armed with enthusiasm and their own secret recipes, Sam and wife, Louise, opened the doors of the first Sammy's Pizza restaurant in Hibbing, MN. Today, some 64 years, 14 locations and more than 20 million pizzas later, Sammy's is now in it's fourth generation of pizza makers, who all use Sam's original recipes.

In 2015, PMQ Pizza Magazine, the pizza industry's No. 1 publication, inducted Sammy's into its Pizza Hall of Fame — which pays tribute to popular pizzerias in business for 50 years or longer.
OUR LOCATION
Sammy's has been an Eau Claire tradition ever since the original Sam Perrella opened a restaurant on Barstow Street in 1957. In 1971, he sold the restaurant to his best friend, Nick Jerulle, and it has been in the Jerulle family ever since. Today, the restaurant is owned and operated by Jim and Tammy Jerulle.

Our menu features award-winning pizzas, pastas, appetizers, burgers, broasted chicken, soups & salads, and more. We also operate a pub with local beers, drink specials, games and trivia.
Visit us and you'll find we make much more than great pizza – we make works of art, inspiring traditions with family, friends, and the community.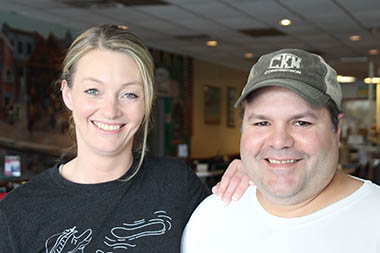 Owners Tammy and Jim Jerulle